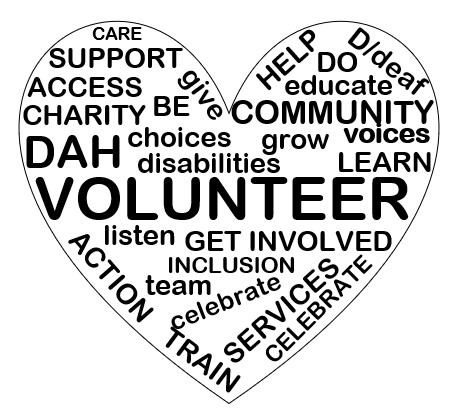 At Disability Action Haringey, we maintain that the oppression and exclusion of disabled people is caused by the way society is structured and organised rather than by their impairments. We are committed to working towards breaking down these barriers to ensure better inclusivity and equality in Haringey. If you would like to be involved, apply to become a volunteer at DAH. We welcome applications on a rolling basis!

Our volunteers take part in a diverse range of tasks, including providing peer-to-peer support, organising events, reception and admin duties and much more. We encourage our volunteers to get involved in providing benefits support and running training programmes for those interested. If you have a specific skill set that could enhance our service, please let us know! This is your chance to become part of a close-knit team – so become a volunteer at DAH today.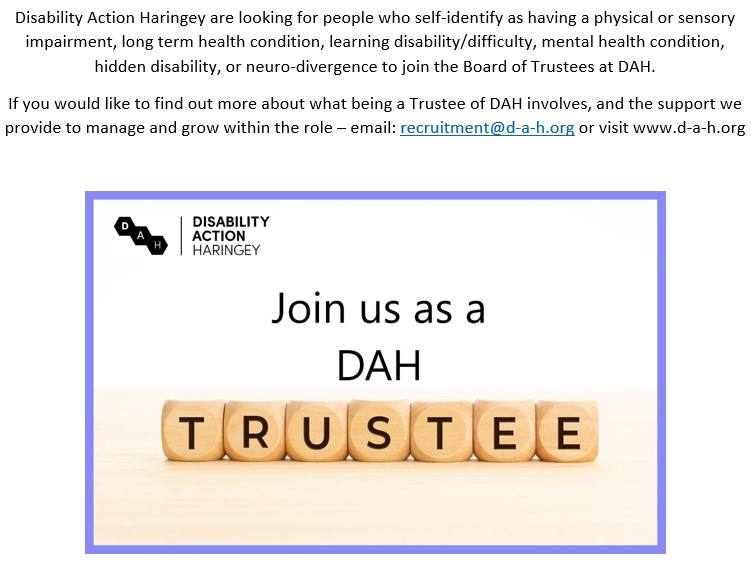 DAH has developed a Community Outreach Programme to act as access points to DAH services and to inform the strategic development of community services and projects across Haringey.

We are looking for 4 Outreach Volunteers

Download the full details by clicking the button on the right.
Social Model of Disability Ambassador Programme - Volunteer to become an Ambassador
Our ambassadors will spread the word and inspire people across all sectors and in all activities to help ensure the understanding and application of the SMD across all sectors.
Ambassadors help us bring attention to the needs of the D/deaf & Disabled community, demonstrate how DAH are working long term across sectors to meet those needs, so that every resident can experience the fullness of life.
DAH offer our SMD Ambassadors:
Training, support, and mentoring
Invitations to relevant local events
Work on social model co-production projects
Build additional life + work experience skills
Build a great new network of contacts
The opportunity to shape and embed the SMD across Haringey
To find out more, click 
here 
or email: info@d-a-h.org